RSM Ported Engine

As most of you know, an engine is basically an "air pump". The more air you can get in and out, the more power you can generate. Of course, you must also keep things like Air/Fuel Ratio, etc. in check. To promote heavy breathing, I turned to RSM Racing in Mississauga, Ontario Canada. Since it is only a 4 hour drive for me, I decided to let them do the install while I enjoyed a weekend in Toronto.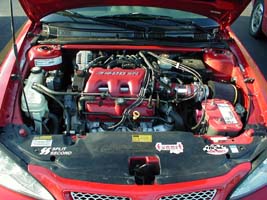 RSM Ported Components:
Throttle Body
Upper Intake Manifold
Lower Intake Manifold
Cylinder Heads
---
61mm Throttle Body

This is a stock unit that is bored & sleeved to increase bore from ~55mm to ~61mm.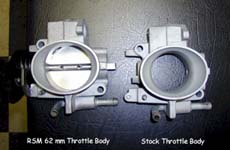 ---
Upper & Lower Intake Manifolds
These are stock units that are gasket-matched at the union and the head and also opened to accept the 61mm throttle body. Mild runner porting was also done.
---
Cylinder Heads
The heads were gasket-matched on intake and exhaust side, valve bowl ported and a 3-angle valve job. They also receive new valvetrain components. Intake flow is increased from 140cfm to 180cfm, exhaust from 108cfm to 149cfm.
---
Results:


| | |
| --- | --- |
| BEFORE | AFTER |
| | |
| | |
As some of you may know, peak numbers are somewhat misleading. When running at the track, you want an even gain across the entire RPM band. This improves low-end performance as well as top-end. Unlike some mods which only boost top-end, this mod made a consistent performance increase across the entire range. This will oly benefit me more and more with each mod I add from here on out.


BACK
LA Party Bus or Party Bus in Chicago